Membership
The Tri-State Gun Club's membership consists of and is open to American citizens of good character; who have an interest in the shooting sports and the collecting, preserving, using or studying of firearms and related equipment. Non-citizens may be accepted by vote of the Board of Directors.
To become a member, prospective new members must fill out and sign a membership form and attend a membership meeting, held at the Tri-State Gun Club's primary training facility on the 1st Sunday of each month at 3:00 pm. At this meeting, prospective new members will receive the current range safety briefing and a range walk-through.
Tri-State Gun Club is a 100% NRA membership club. All prospective new members must either be a current member of the NRA or apply for NRA membership during the TSGC application process. If you would like to join the NRA online, click banner below.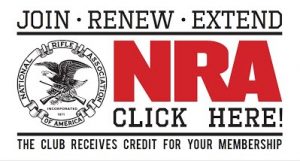 Life members are required to fill out a membership form annually as a means of verifying their contact information is still up to date.
Current Fees:
$200 – Annual Member
$160 – Law Enforcement/Active Duty Military
$100 – Senior (over 65)